60V 8A Lithium Battery Charger
Item number: VL6008L
Size(LxWxH): 220 x 120 x 70 mm
Net weight: 2.5 KG
Case: Aluminum

Max charging voltage(CV): 67.2V or 73Vdc
Floating voltage: /
Max output current (CC): 8 amps
Charging method: Automatic Pre-charge, CC, CV
AC input voltage: 110V or 230Vac
AC input freq.: 50 / 60 Hz
AC plug: US, UK, Euro, AU, etc.
Output connector type: Clips, Anderson, etc.

60V 8A Lithium Battery Charger For E-Floor Sweeper.
Brief Description:
60 volt 8 amps lithium battery charger suits for 60V Li-ion / LiFePO4 / LiMnO2 battery powered Electric Floor Wweepers, input with 110 or 230Vac and rated output voltatge is 60 volt 8 amps. Smart max charging voltage is 607.2V or 73V for Li-ion / LiFePO4 type batteries. Intelligent 3 steps PWM charging with CC, CV and Floating, this charger will charge your electric floor sweeper very fast, with high efficiency and protect your battery life to the max. As a manufacturer of battery charger, we can customize charger and provide factory competitive price and two years warranty.
Features:
◆ Advanced high frequency switching mode power supply technology.
◆ DC output isolated from AC input.
◆ Input 110 or 230Vac, 50Hz~60Hz.
◆ Charging parameters are insensitive to the AC input line voltage variations.
◆ Completely automatic battery charging: Pre-charging, CC, CV, Absorption, Float or Cut-off.
◆ 2 LEDs: LED1 Red (power on), LED2 Red/green (charging/full)..
◆ Possibility to customize charging curve for request.
◆ Protections: Short circuit, Over-voltage, Over-temperature, Reverse Polarity.
◆ Efficiency > 95%.
◆ Forced ventilation with fans.
◆ 100% full load burn-in test.
◆ Aluminum casing, light weight, portable.
Technical Specs.:
1) Dimensions(LxWxH): 220 x 120 x 70 mm
2) Net weight: 2.5 KG
3) Max charging voltage(CV): 67.2V or 73.5V
4) Floating voltage: /
5) Max output current (CC): 8A
6) Charging method: Automatic Pre-charge, CC, CV
7) AC input voltage: 110V or 240V
8) AC input freq.: 50 / 60 Hz
9) AC plug: US, UK, Euro, AU, etc.
10) Output connector type: Clips, Anderson, etc.
11) Enclosure: Aluminum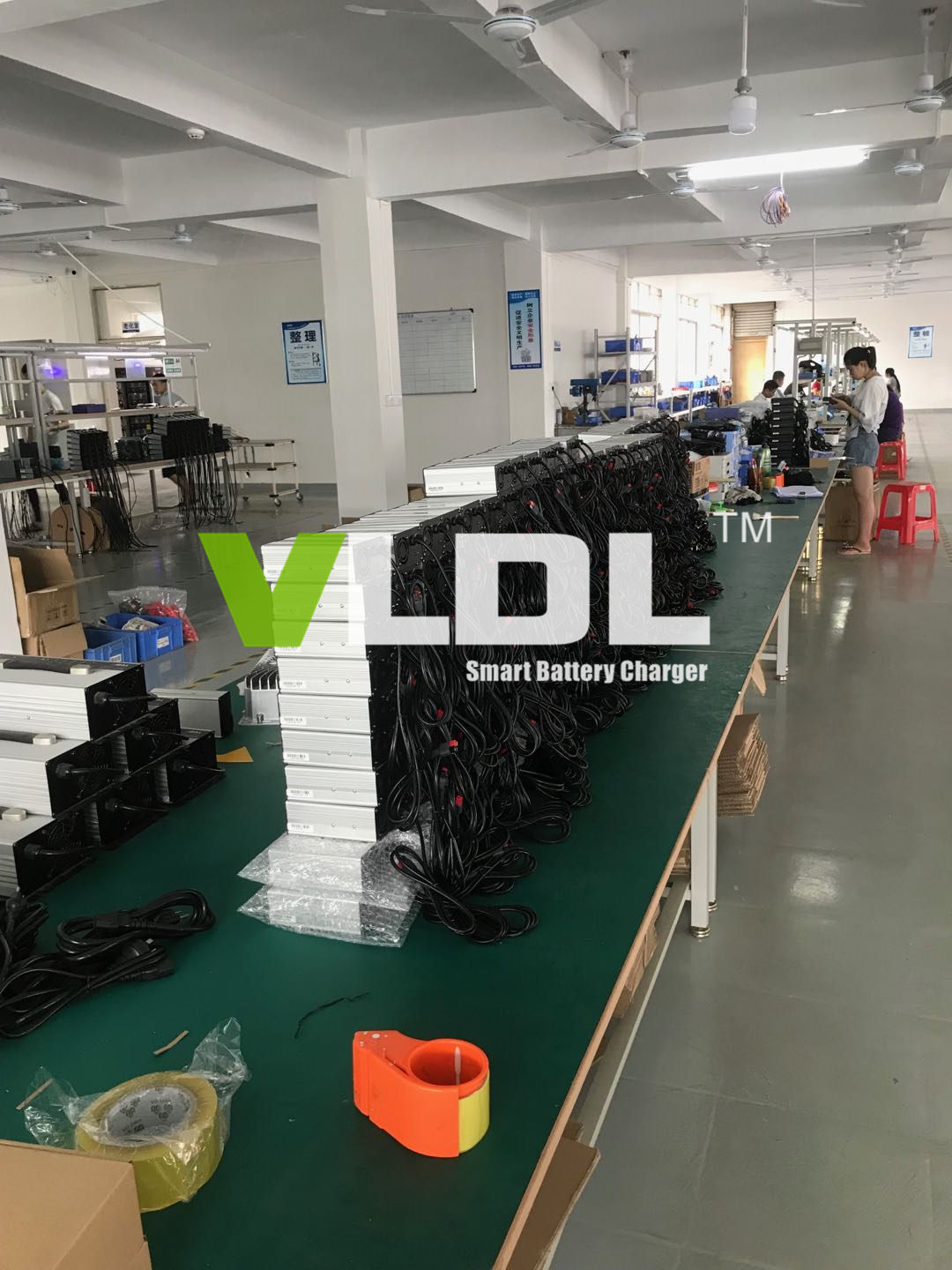 Output series: 600W Size: 220×120×70 mm Net weight: 2.5 KG
Input
Model
Apply to battery types
Floating V
CV (V)
CC (A)
Switching

AC Input:

110 or 230V

Frequency:

47~63HZ

VL1225L
12V LiFePO4 Battery
14.6V
25A
CC5~8%
VL1225
12V Lead-acid Battery
13.5V
14.7V
25A
CC20%
VL1425
14V AGM Battery
13.5V
14.4V
25A
CC20%
VL1625L
16V LiFePO4 Battery
18.2V
25A
CC5~8%
VL2418LM
24V Li-MnO2 Battery
29.4V
18A
CC5~8%
VL2418L
24V LiFePO4 Battery
29.2V
18A
CC5~8%
VL2418
24V Lead-acid Battery
27.6V
29.4V
18A
CC20%
VL3612LM
36V Li-MnO2 Battery
42V
12A
CC5~8%
VL3612L
36V LiFePO4 Battery
43.8V
12A
CC5~8%
VL3612
36V Lead-acid Battery
41.4V
44.1V
12A
CC20%
VL4810LM
48V Li-MnO2 Battery
54.6V
10A
CC5~8%
VL4810L
48V LiFePO4 Battery
43.8V
10A
CC5~8%
VL4810
48V Lead-acid Battery
55.2V
58.8V
10A
CC20%
VL6008L
60V LiFePO4 Battery
73V
8A
CC5~8%
VL6008
60V Lead-acid Battery
67.5V
73.5V
8A
CC20%
VL7206L
72V LiFePO4 Battery
87.6V
6A
CC5~8%
VL7206
72V Lead-acid Battery
81V
88.2V
6A
CC20%
VL8405L
84V LiFePO4 Battery
102.2V
5A
CC5~8%
VL8405
84V Lead-acid Battery
94.5V
102.9V
5A
CC20%
Note: customized input / output / plug type / connectors are available.