48V 5A Li Battery Charger
Item No.:
VL4805L
Charger case: Aluminum
Dimension: 170 x 90 x 63 mm

Net weight: 1.5 kg
Input voltage: 110 or 230Vac
Output-rated: 48V, 5A
Output-max:
54.6V / 58.4V, 5A
Applied to battery types: 48V Lithium Batteries
Charging method: Automatic CC, CV
Warranty: 2 Years

China 48V 5A Lithium Battery Chargers Manufacturer/Factory

Brief Description:
Lithium battery charger 48 volts 5 amps, input with AC 110 / 230Vac and rated output voltage is DC 48V 5A. Smart max charging voltage is 54.6V 58.4V for Li-ion, LiFePO4, LiMnO2 type batteries. Intelligent 4 stages charging with CC, CV steps, this charger will charge your battery powered electric scooters, motorcycles very fast, with high efficiency and protect your battery life maximum. High quality, factory price and 2 years warranty.
Features:
◆ Advanced high frequency switching mode power supply technology.
◆ DC output isolated from AC input.
◆ AC input 110/230Vac, 50Hz~60Hz.
◆ Charging parameters are insensitive to the AC input line voltage variations.
◆ Completely automatic battery charging: Pre-charging, CC, CV, Absorption, Float or Cut-off.
◆ 2 LEDs: LED1 Red (power on), LED2 Red/green (charging/full)..
◆ Possibility to customize charging curve for request.
◆ Protections: Short circuit, Over-voltage, Over-temperature, Reverse Polarity.
◆ Efficiency > 95%.
◆ Forced ventilation with fans.
◆ 100% full load burn-in test.
◆ Aluminum casing, light weight, portable.
Technical Specs.:
1) Dimensions(LxWxH): 170 x 90 x 63 mm
2) Net weight: 1.5 KG
3) Max charging voltage(CV): 54.6 / 58.4 / 58.8Vdc
4) Floating voltage: /
5) Max output current (CC): 5 amps
6) Charging method: Pre-charge, CC, CV
7) AC input voltage: 110 or 230Vac
8) AC input freq.: 50 / 60 Hz
9) AC plug: US, UK, EU, India, AU etc.
10) Output connector type: XLR, Anderson, Clips, RCA etc.
11) Enclosure: Aluminum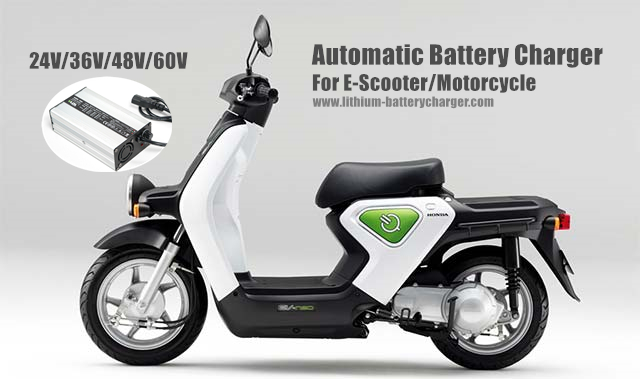 As a smart battery charger manufacturer / factory / supplier, Danl only produces high quality chargers for lithium / lead-acid batteries. This 48V5A smart battery charger designed for Lithium batteries, rated 48V 5A output, max charging voltage is customized with 54.6V / 58.4V. Fully automatic 4 steps charging, intelligent and protable. Only 1.5KG with aluminum housing. Input voltage could be 110Vac, 230Vac or 110-230Vac worldwide, end surer can use it anywhere and as a wholesales agent, you can stock it and sell it to worldwide.
Please don't worry this charger's quality, we guarantee 2 years warranty. As our wholesales agent, we will provide free replacing in 2 years for our battery chargers. End user can replace it freely from your sellers. Why we can promise two years free replacing? Because we have confidence for our quality control system which has lasted technology test machine and best component using and at least 2-4 hours aging test for every charger.