48V 25A EV Battery Charger
Item No.: VL4825
Case mateiral: Aluminum
Input voltage: 110V or 230Vac
Rated output: 48V 25Amps
Max charging: 58.8Vdc
Applied to battery types : 48V Lead-acid, AGM, GEL
Applied to EV: E-car, golf carts, E-forklifts.
Charging method: auto CC, CV and Floating
Size: 300 x 150 x 90 mm
Net weight: 6.0KG
Warranty: 2 years

48V 25A Smart Battery Charger For EV Input 110V or 230Vac Li or Lead Acid Battery
Brief Description:
Advanced high frequency switching mode power supply technology. Designed for 48V lithium or lead acid battery. Custom-made charging method is available. Single 110V or 230Vac. Rated output voltatge is 48V 25A. Max charging voltage could be 54.6V, 58.4V or 58.8V according to battery types. Intelligent 4 steps charging with pre-charge, CC, CV and floating or automatic cut-off. Protections: Short circuit, Over-voltage, Over-temperature, Reverse Polarity. Aluminum casing, light weight, portable. Suit to charge 48V e-forklifts, e-club cars or other EVs.
Technical Specs.:
1) Dimensions(LxWxH): 300 x 150 x 90 mm
2) Net weight: 5.5 KG
3) Max charging voltage(CV): 54.6 / 58.4 / 58.8 volt
4) Floating voltage: customized
5) Max output current (CC): 25 amps
6) Charging method: pre-charge, CC, CV, floating / trickle or shut off
7) AC input voltage: 110 / 230Vac
8) AC input freq.: 50 / 60 Hz
9) AC plug: customized by user's country
10) Output connector type: customized by applications
11) Enclosure: Aluminum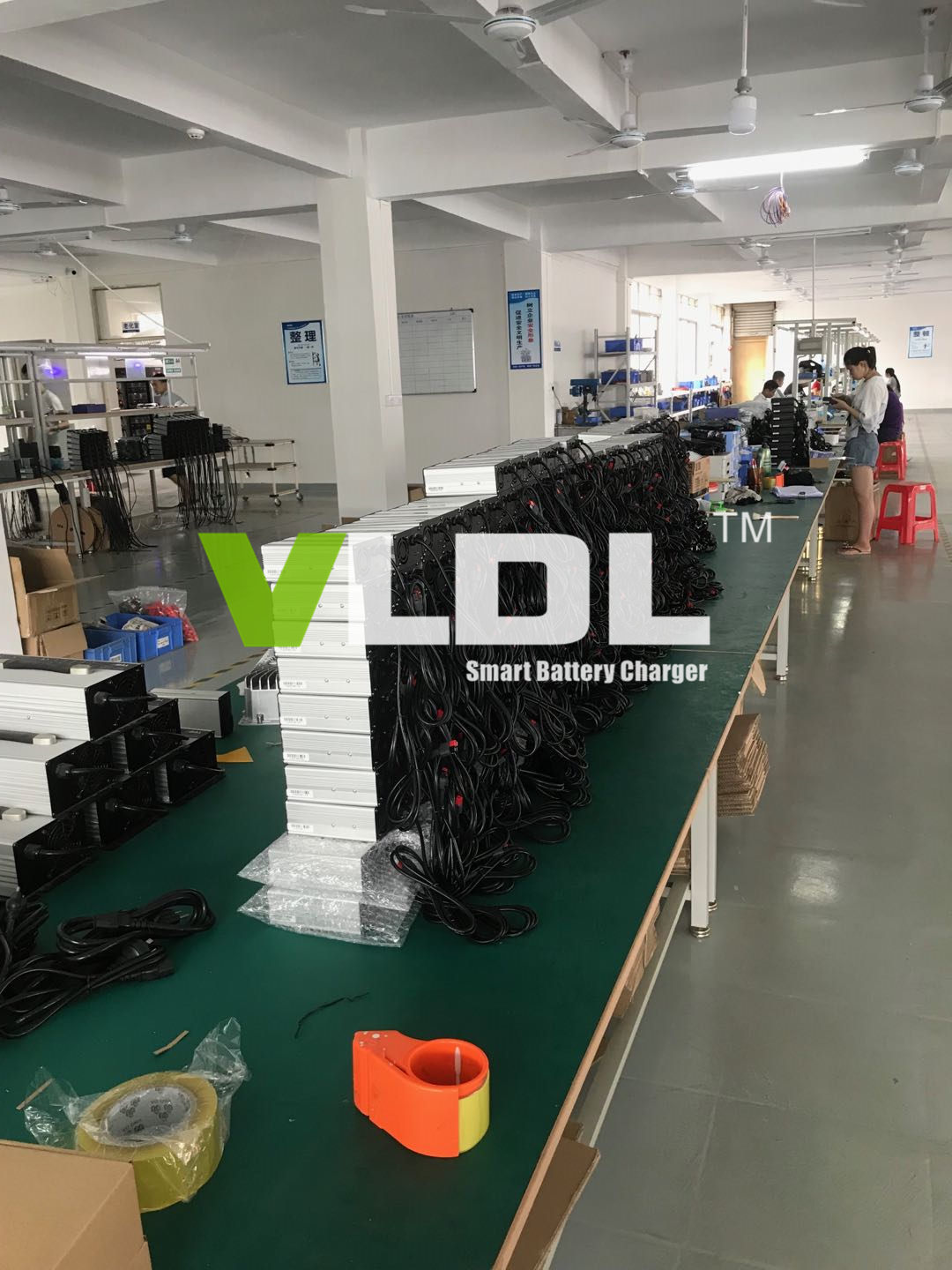 Ralated Charger of 1500W:
Output series: 1,500W Size: 300×150×90 mm Net weight: 5.5 KG
Input
Model
Apply to battery types
Floating V
CV (V)
CC (A)
Switching




AC Input:

230V




Frequency:

47~63HZ




VL1280L
12V LiFePO4 Battery


14.6V
80A
CC5~8%
VL1280
12V Lead-acid Battery
13.5V
14.7V
80A
CC20%
VL1480
14V AGM Battery
13.5V
14.4V
80A
CC20%
VL1680L
16V LiFePO4 Battery


18.2V
80A
CC5~8%
VL2445LM
24V Li-MnO2 Battery


29.4V
45A
CC5~8%
VL2445L
24V LiFePO4 Battery


29.2V
45A
CC5~8%
VL2445
24V Lead-acid Battery
27.6V
29.4V
45A
CC20%
VL3630LM
36V Li-MnO2 Battery


42V
30A
CC5~8%
VL3630L
36V LiFePO4 Battery


43.8V
30A
CC5~8%
VL3630
36V Lead-acid Battery
41.4V
44.1V
30A
CC20%
VL4825LM
48V Li-MnO2 Battery


54.6V
25A
CC5~8%
VL4825L
48V LiFePO4 Battery


43.8V
25A
CC5~8%
VL4825
48V Lead-acid Battery
55.2V
58.8V
25A
CC20%
VL6020L
60V LiFePO4 Battery


73V
20A
CC5~8%
VL6020
60V Lead-acid Battery
67.5V
73.5V
20A
CC20%
VL7215L
72V LiFePO4 Battery


87.6V
15A
CC5~8%
VL7215
72V Lead-acid Battery
81V
88.2V
15A
CC20%
VL8413L
84V LiFePO4 Battery


102.2V
13A
CC5~8%
VL8413
84V Lead-acid Battery
94.5V
102.9V
13A
CC20%
VL9612L
96V LiFePO4 Battery


116.8V
12A
CC5~8%
VL9612
96V Lead-acid Battery
108V
117.6V
12A
CC20%
Note: customized input / output / plug type / connectors are available