48V 20A Marine Battery Charger
Item number: VL4820LWP
Color Option: Silver
IP rate: IP65
Applied to Battery Types: Lithium Battery
Input voltage: universal 90-264Ac with PFC
Output: rated 48V 20Amps
Max Charging: 58.8V 20Amps
Dimensions(L*W*H): 310*230*101 mm
Net weight: 6 KG

48V 58.8V 20A Automatic Marine Battery Charger, Waterproof IP65, PFC Charger

Waterproof / Water-resist / Marine 48V20A smart battery charger with IP65 rate is designed for lead acid (AGM, sealed) battery powered electric cars or boat appliecation, input with PFC worldwide 110 to 230Vac and rated output voltatge is 48V 20A. Smart max charging voltage is 58.8V for lead acid (sealed, AGM) type batteries and 58.4 / 58.8V for Lithium batteries. MCU coutrolled and intelligent 4 steps charging with pre-charge, CC, CV and floating or automatic cut-off, this charger will charge your electric motorcycless very fast, with high efficiency and pretect your battery life maximumly.
Vibration Test of Danl Battery Charger:
Features:
◆ Advanced high frequency switching mode power supply technology.
◆ DC output isolated from AC input.
◆ Auto worldwide Input 110 / 240Vac(90 ~ 264Vac) with PFC, 50Hz ~ 60Hz.
◆ Charging parameters are insensitive to the AC input line voltage variations.
◆ Completely automatic battery charging: Pre - charging, CC, CV, Absorption, Float or Cut - off.
◆ 2 LEDs: LED1 Red (power on), LED2 Red/green (charging/full)..
◆ Possibility to customize charging curve for request.
◆ Protections: Short circuit, Over-voltage, Over-temperature, Reverse Polarity.
◆ Efficiency > 95%.
◆ No fan, fully sealed.
◆ 100% full load burn-in test.
◆ Aluminum casing, light weight, portable, on-board.
12) Waterproof rate: IP65
1,500W waterproof charger Size: 310×230×101 mm Net weight: 8.0 KG
Input
Model
Apply to battery types
Floating V
CV (V)
CC (A)
Switching




PFC

AC Input:

90 - 264V




Frequency:

47~63HZ




VL1260LWP
12V LiFePO4 Battery


14.6V
60A
CC5~8%
VL1260WP
12V Lead-acid Battery
13.5V
14.7V
60A
CC20%
VL1460WP
14V AGM Battery
13.5V
14.4V
60A
CC20%
VL1660WPL
16V LiFePO4 Battery


18.2V
60A
CC5~8%
VL2445LMWP
24V Li-MnO2 Battery


29.4V
45A
CC5~8%
VL2445LWP
24V LiFePO4 Battery


29.2V
45A
CC5~8%
VL2445WP
24V Lead-acid Battery
27.6V
29.4V
45A
CC20%
VL3630LMWP
36V Li-MnO2 Battery


42V
30A
CC5~8%
VL3630LWP
36V LiFePO4 Battery


43.8V
30A
CC5~8%
VL3630WP
36V Lead-acid Battery
41.4V
44.1V
30A
CC20%
VL4825LMWP
48V Li-MnO2 Battery


54.6V
25A
CC5~8%
VL4825LWP
48V LiFePO4 Battery


43.8V
25A
CC5~8%
VL4825WP
48V Lead-acid Battery
55.2V
58.8V
25A
CC20%
VL6018LWP
60V LiFePO4 Battery


73V
20A
CC5~8%
VL6018WP
60V Lead-acid Battery
67.5V
73.5V
20A
CC20%
VL7215LWP
72V LiFePO4 Battery


87.6V
15A
CC5~8%
VL7215WP
72V Lead-acid Battery
81V
88.2V
15A
CC20%
VL8413LWP
84V LiFePO4 Battery


102.2V
13A
CC5~8%
VL8413WP
84V Lead-acid Battery
94.5V
102.9V
13A
CC20%
VL9612LWP
96V LiFePO4 Battery


116.8V
12A
CC5~8%
VL9612WP
96V Lead-acid Battery
108V
117.6V
12A
CC20%
Note: customized input / output / plug type / connectors are available.


48V 20A Marine Battery Charger
Why VLDL 48V20A Marine/Waterproof Battery Charger are worth to buy?
There are four reasons:
1. High Quality.
We say our battery chargers have good quality; you may think that every manufacturer claims that their charger is the best. OK, you are thinking totally right! Bad manufacturers will 100% guarantee their chargers is the best in the world and with the cheapest price! But actually, you can't buy a best product with the cheapest price, the old saying is that "You get what you pay"!
For VLDL Marine / Waterproof Battery Charger, please take a look at inside of it. Comparing some cheap charger manufacturers, in order to save cost, they use send-hand components (we call electronic waste) and no EMC circuit design, no 100% burn-in test before packing.
But we use high quality components, latest circuit technology design (meet EMC standards), fully cover for all components and PCB by waterproof glue, 100% burn-ion test for 4 hours for every charger. From the appearance, it looks the same but much different from the inside. We control our failure rate under 1%, but some manufacturers' failure rate more than 40%. After you buy from them, then you will be struggling for after-service, no warranty no free replacing, it will hurt your customers and wasting time.
Please see point 2 below, Danl promise full 2 years warranty with free replacing, no worry no struggling for failed problem, just replace it, easy and fast.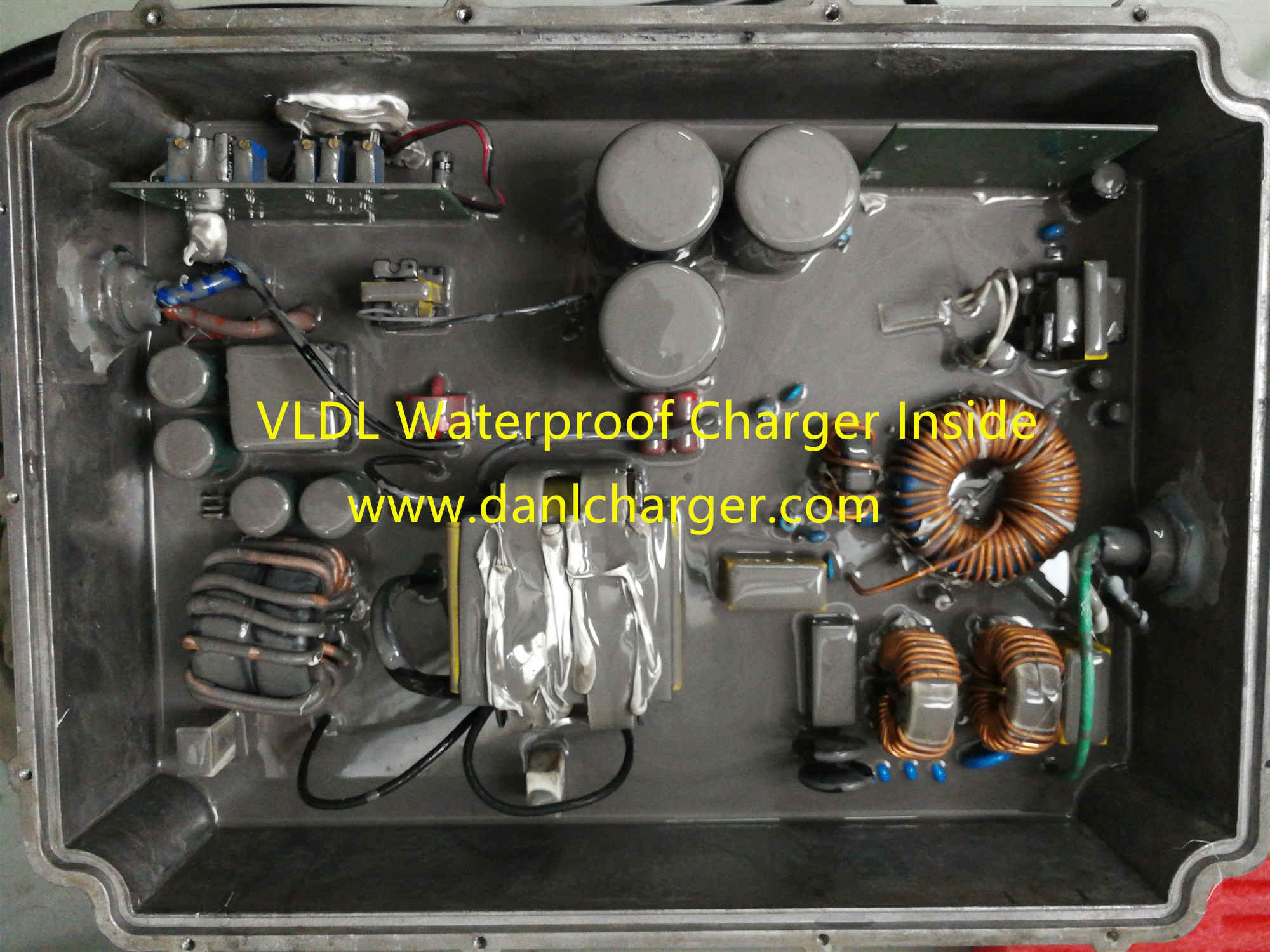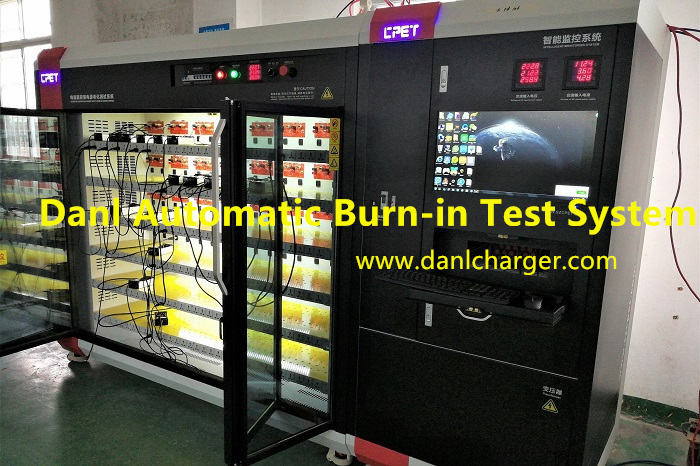 2. Full 2 Years Warranty with Free Replacing
Danl guarantee that we provide full 2 years warranty with free replacing. That means we will replace with free new chargers for your faulty chargers, no repair, no wasting to send back and check, no passing the buck. Why do we have confidence to provide that a great warranty policy? Because we only produce high quality battery chargers, lowest failure rate gives us that confidence.
3. Factory Price
Based on high quality and full 2 years warranty policy, we supply battery charger with factory price, not the cheapest as some bad manufacturers but reasonable price. We only earn some small part of profit because we know that "Win-Win" situation will help our customers and then help ourselves at the same time. If our customers can't earn more, how can they buy from us? That is our business philosophy.
4. Best After-service
Trust us that we asked all of our salesman to reply in 12 hours, not 24 hours.