48V 10A Battery Charger
Item No.: VL4810
Case material: Aluminum
Input voltage: 110V or 230V
Rated output: 48V 10A
Max charging: 58.8V 10A
Charging method: auto. CC CV and floating
Applied to battery types: 48V Lead-acid, AGM, GEL
Size: 220 x 120 x 70 mm
Net weight: 2.5kg
Warranty: 2 years

48V 10A Lead Acid Battery Charger Automatic 3 Steps Charging for SLA, GEL, AGM battery
Brief Descriptions:
Designed for 48V Lead acid battery powered electric motorcycles, input with 110 or 230Vac and rated output voltatge is 48V 10A. Smart max charging voltage is 58.8V for lead acid type batteries and 54.6V / 58.4V for Lithium batteries. Intelligent 4 steps charging with pre-charge, CC, CV and floating or automatic cut-off, this charger will charge your electric motorcycless very fast, with high efficiency and pretect your battery life maximumly.
Technical Specs.:
1) Dimensions(LxWxH): 220 x 120 x 90mm
2) Net weight: 2.5 KG
3) Max charging voltage(CV): 58.8volt
4) Floating voltage: 55.2V
5) Max output current (CC): 10 amps
6) Charging method: Auto. CC, CV, floating / trickle or shut off
7) AC input voltage: 110 - 240Vac with PFC
8) AC input freq.: 50 / 60 Hz
9) AC plug: customized by user's country
10) Output connector type: customized by applications
11) Enclosure: Aluminum
Features:
◆ Advanced high frequency switching mode power supply technology.
◆ DC output isolated from AC input.
◆ Auto worldwide Input 110/230Vac(90~264Vac) with PFC, 50Hz~60Hz.
◆ Charging parameters are insensitive to the AC input line voltage variations.
◆ Completely automatic battery charging: Pre-charging, CC, CV, Absorption, Float or Cut-off.
◆ 2 LEDs: LED1 Red (power on), LED2 Red/green (charging/full)..
◆ Possibility to customize charging curve for request.
◆ Protections: Short circuit, Over-voltage, Over-temperature, Reverse Polarity.
◆ Efficiency > 95%.
◆ Forced ventilation with fans.
◆ 100% full load burn-in test.
◆ Aluminum casing, light weight, portable.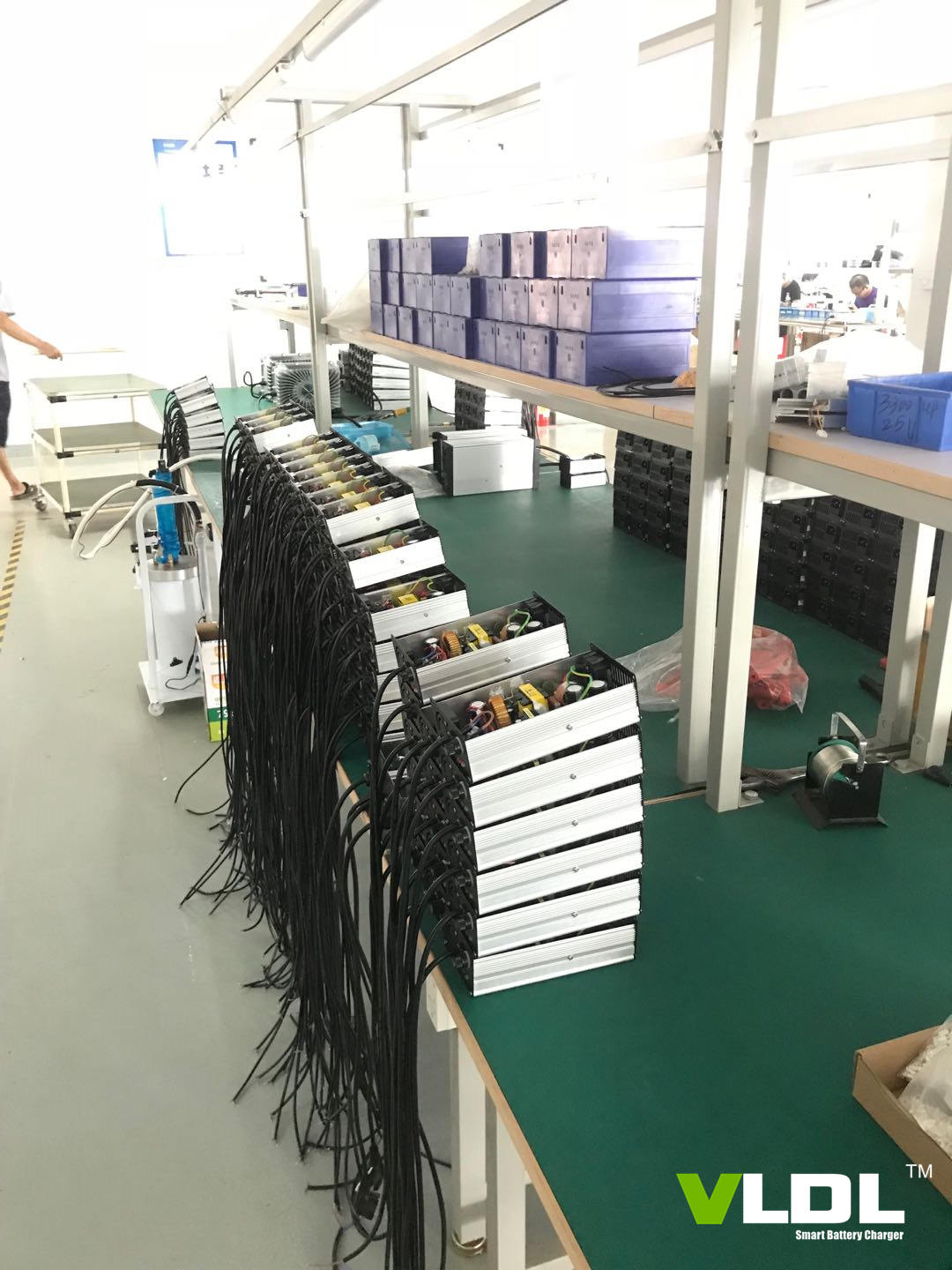 Output series: 600W PFC Size: 230×120×70 mm Net weight: 2.5 KG
Input
Model
Apply to battery types
Floating V
CV (V)
CC (A)
Switching

PFC

AC Input:

110 - 230V




Frequency:

47~63HZ




VL1225L
12V LiFePO4 Battery


14.6V
25A
CC5~8%
VL1225
12V Lead-acid Battery
13.5V
14.7V
25A
CC20%
VL1425
14V AGM Battery
13.5V
14.4V
25A
CC20%
VL1625L
16V LiFePO4 Battery


18.2V
25A
CC5~8%
VL2418LM
24V Li-MnO2 Battery


29.4V
18A
CC5~8%
VL2418L
24V LiFePO4 Battery


29.2V
18A
CC5~8%
VL2418
24V Lead-acid Battery
27.6V
29.4V
18A
CC20%
VL3612LM
36V Li-MnO2 Battery


42V
12A
CC5~8%
VL3612L
36V LiFePO4 Battery


43.8V
12A
CC5~8%
VL3612
36V Lead-acid Battery
41.4V
44.1V
12A
CC20%
VL4810LM
48V Li-MnO2 Battery


54.6V
10A
CC5~8%
VL4810L
48V LiFePO4 Battery


43.8V
10A
CC5~8%
VL4810
48V Lead-acid Battery
55.2V
58.8V
10A
CC20%
VL6008L
60V LiFePO4 Battery


73V
8A
CC5~8%
VL6008
60V Lead-acid Battery
67.5V
73.5V
8A
CC20%
VL7206L
72V LiFePO4 Battery


87.6V
6A
CC5~8%
VL7206
72V Lead-acid Battery
81V
88.2V
6A
CC20%


VL8405L
84V LiFePO4 Battery


102.2V
5A
CC5~8%


VL8405
84V Lead-acid Battery
94.5V
102.9V
5A
CC20%
Note: customized input / output / plug type / connectors are available.
Battery Knowledge
Q. What do the abbreviations MF, GEL and AGM mean?
A. Gel, AGM, Vlies, MF, Calcium/Calcium and Hybrid are abbreviations for different types of lead-acid batteries.
Q. What do the abbreviations LiFePO4, Li-ion, Li-MnO2 and LiCoO2 mean?
A. LiFePO4, Li-ion, Li-MnO2 and LiCoO2 are abbreviations for different types of lithium batteries, that means there batteries using different cathode materials. Different batteries have different charging voltages.
Battery Charger Knowledge
Q. What charger should I choose?
A. It depends on the type of battery, the capacity of the battery, the application and how much you are prepared to spend. Just tell us your battery information, DANL battery charger engineer will recommend the most suitable charger for you or customized by your batteries and applications.
Q. Can I charge several batteries in parallel?
A. The charger has no problem whatsoever of charging or maintaining several batteries, as long as they are connected in parallel. The charger sees the parallel connected batteries as one large battery. The sum of the capacity has to be below the recommendation for your model. Please note that there could be a high current between batteries when they are connected together, i.e. use high quality wiring.
Q. Can you really connect and then forget about the charger?
A. That depends on your batteries state and charger's type. Danl lead-acid battery chargers have maintenance mode(floating mode), charger charges with very small current at this mode, so you can forget about the charger but not exceed 24 hours. If your battery is lithium type and without BMS system, please don't forget the charger.
About DANL Company
Q. Are you a factory or trading company?
A. Danl is battery charger factory and we found in 2008. We have being in switching mode power supply and charger industrial for 15 years and have 10 years of exporting experience to worldwide especially to the high lever market of North America and Euro countries.
Q. What's about the warranty for Danl battery chargers?
Danl promises that we provide full 2 years warranty for our battery chargers. No return for faulty battery chargers firstly, we send you new replacing chargers firstly. Danl adopts latest ATE Automatic Battery Charger Testing System to test all of our battery chargers before shipping, guaranteeing extremely low rate of failure. So we have confidence to provide 2 years warranty.
Q. Do you accept OEM order?
A. Yes, we do. Danl provides OEM, ODM service. Please just tell us your project and we will provide a full charging solution for you, for example, your customized electric vehicles, sun-powered stations, racing batteries, on-board charging, etc.
Q. What is about the lead time for an order?
A. Normally, lead time is 7 days. If need large quantity, say 500 to 1000pcs, it will take about 15 days. If you need ODM charging solution, lead time depends on technical request, often it needs about 30 days.
Q. What certification do you have?
A. We have CE, RoHS, CB currently. We will add and pass the test of certificate which applied in your country.
Q. Why choose your smart battery chargers?
A. Because our battery chargers have high quality but reasonable factory price. First, we do not use cheap and unreliable components to save cost like other charger factories who have very cheap price. Second, we use latest ATE smart battery charger test and aging system and guarantee the quality of every battery chargers.