42V 4A Lithium Battery Charger
Max charging voltage(CV): 42 volts
Max output current (CC): 4 amps
Charging method: Automatic CC, CV
AC input voltage: 110 or 230Vac
AC input freq.: 50 / 60 Hz
AC plug: US, EU, AU etc.
Output connector type: clips, Anderson, XLR, RCA etc.
Casing: Aluminum

42V 4A Lithium Battery Charger For Electric Bike/Scooter/Mobility

Descriptions:
Lithium battery charger 36V(42) 4A was designed for Electric Mobility / Scooters. Totally micro-processor controlled and automatic charging by battery's state. Max charging voltage can be set at 42V for Lithium-ion battery types. As a 15 years battery charger factory, Danl gurrantees 2 years warranty for all of our chargers, high quality and in 24 hours response after-service. Bring safty and best service to our customers.
Specifications:
AC input voltage: 110 or 230Vac
AC input freq.: 50 / 60 Hz
Rated output: 36V 4Amps
Max charging voltage: 42V
Dimensions(LxWxH): 155 x 90 x 50 mm
Net weight: 0.9 KG
Housing: Aluminum
Color: Silver or Black
Techonolgy & Advantages:
High Frequency Switching Mode Power Supply.
Intelligent Micro-processor Controlled.
Smart and Automatic 4 Steps Charging.
Aluminum Casing, Light Weight, Portable.
High Quality, Factory Price.

Protections:
Short circuit, Over-voltage, Over-temperature, Reverse Polarity.
Applications:
Automatic Charging For 36V Lead-acid / SLA / AGM / GEL Batteries.
Suit for E-mobility, E-scooters.

Special Functions For EV:
1) In-lock signal is available: EV can't start when charging.
2) Remote signal wire is available for connecting control digital display board.

Warranty:
Fully 2-year warranty with Free Replacing Policy.
Response in 24 hours after getting failed product report from customers.
Related Models of 180W Charger:
Output series: 180W Size: 155×90×50 mm Net weight: 0.9 KG
Input
Model
Apply to battery types
Floating V
CV (V)
CC (A)
Switching

AC Input:

85~264V




Frequency:

47~63HZ




VL1208L
12V LiFePO4 Battery


14.6V
8A
CC5~8%
VL1208
12V Lead-acid Battery
13.5V
14.7V
8A
CC20%
VL2405LM
24V Li-MnO2 Battery


29.4V
5A
CC5~8%
VL2405
24V Lead-acid Battery
27.6V
29.4V
5A
CC20%
VL3604L
36V Li-MnO2 Battery


42V
4A
CC5~8%
VL3604
36V Lead-acid Battery
41.4V
44.1V
4A
CC20%
VL4803LM
48V Li-MnO2 Battery


54.6V
3A
CC5~8%
VL4803
48V Lead-acid Battery
55.2V
58.8V
3A
CC20%
Note: customized input / output / plug type / connectors are available.

Certificates:


Factory Pictures: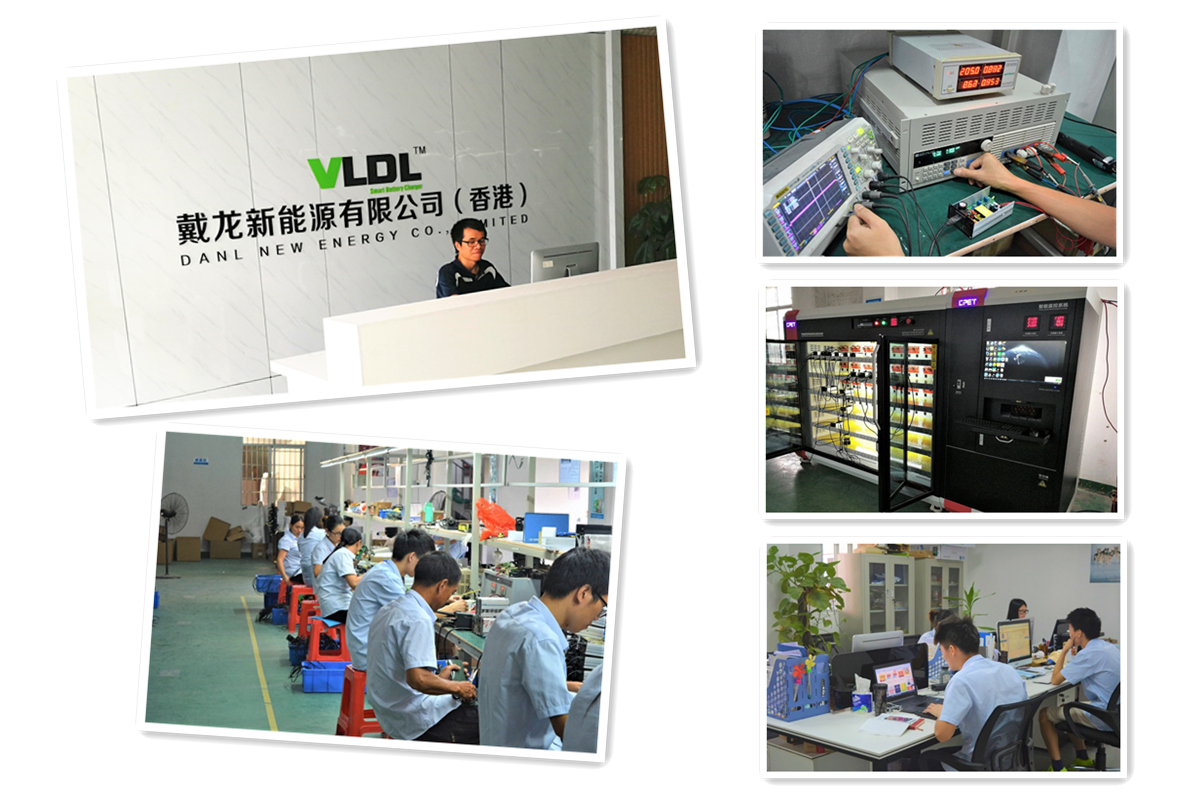 Battery Knowledge
Q. What do the abbreviations MF, GEL and AGM mean?Certifications:
A. Gel, AGM, Vlies, MF, Calcium/Calcium and Hybrid are abbreviations for different types of lead-acid batteries.
Q. What do the abbreviations LiFePO4, Li-ion, Li-MnO2 and LiCoO2 mean?
A. LiFePO4, Li-ion, Li-MnO2 and LiCoO2 are abbreviations for different types of lithium batteries, that means there batteries using different cathode materials. Different batteries have different charging voltages.

Battery Charger Knowledge
Q. What charger should I choose?
A. It depends on the type of battery, the capacity of the battery, the application and how much you are prepared to spend. Just tell us your battery information, DANL battery charger engineer will recommend the most suitable charger for you or customized by your batteries and applications.
Q. Can I charge several batteries in parallel?
A. The charger has no problem whatsoever of charging or maintaining several batteries, as long as they are connected in parallel. The charger sees the parallel connected batteries as one large battery. The sum of the capacity has to be below the recommendation for your model. Please note that there could be a high current between batteries when they are connected together, i.e. use high quality wiring.
Q. Can you really connect and then forget about the charger?
A. That depends on your batteries state and charger's type. Danl lead-acid battery chargers have maintenance mode(floating mode), charger charges with very small current at this mode, so you can forget about the charger but not exceed 24 hours. If your battery is lithium type and without BMS system, please don't forget the charger.