36V 20A Waterproof Battery Charger IP65
Item No.: UY900S-3620
Size: 262 x 134 x 86 mm
Net weight: 2.8 KG
AC input voltage: Universal 110-230Vac
Output-rated: 36V 20A
Output-max: 42V or 43.8V customized
Charge for: both 36V lead acid and lithium battery
Charging method: Pre-charge, CC and CV
Waterproof rate: IP65 / IP66
Warranty: 2 Years

36V 20A Waterproof Battery Charger


Charging both 36V Lead-acid or Lithium battery by ONE charger.

No matter your cell voltage is 3V, 3.65V, 4.2V or other voltages, we will set by it and you just choose one mode before charging.
One Charger for 3-mode Battery Types Charging
There is a selector for choosing battery types:
1. LPF: LiFePO4 Battery
2. NCM: LioO2, LiNiO2 and LiMnO2 Battery
3. Lead Acid: AGM, GEL and SLA battery
Just select the button of "SEL" by your battery type before charging and start smart charging with set Pre-charge, CC, CV, Floating or Cut-off automatically.
Do not need to buy three different chargers for your different batteries. Money saving and space saving.
Factory price, high quality with two years warranty.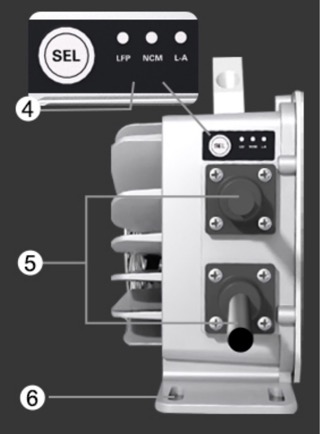 Features:
1. Multi-voltage support.
》Easy voltage selection by a button and then charging with unique target battery voltages steps.
2. Lead-acid and Lithium Battery Types are compatible.
》Lead acid battery includes: AGM, GEL, SLA etc.
》Lithium battery includes: NMC, LiFePO4, LiMnO2 etc.
3. Waterproof rate.
》IP65 or IP66
4. Universal input with PFC.
》AC 110-230V input, power factor>0.99
5. Portable and light weight.
》With hand-held and mounting feet. Only 2.8kg.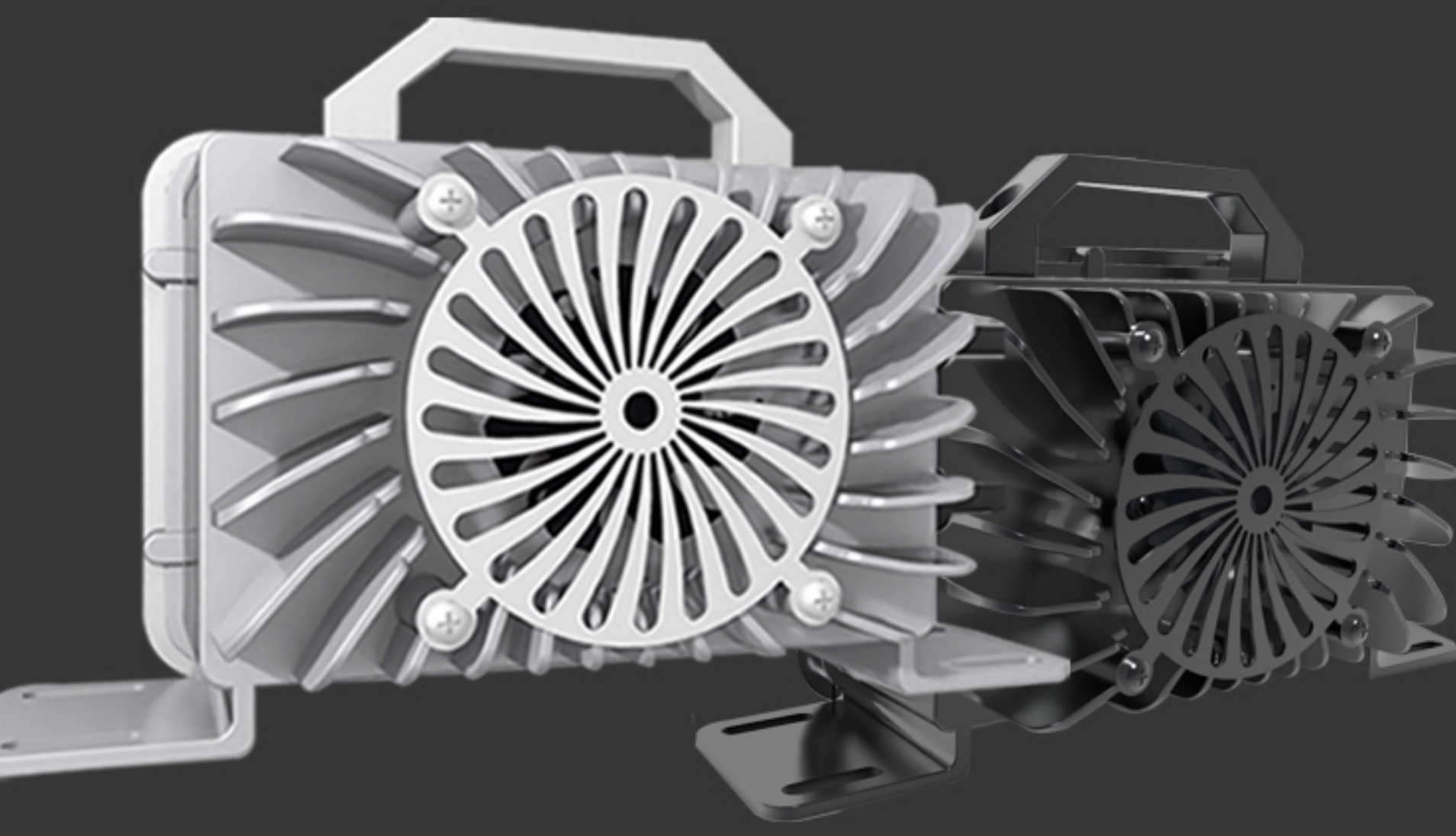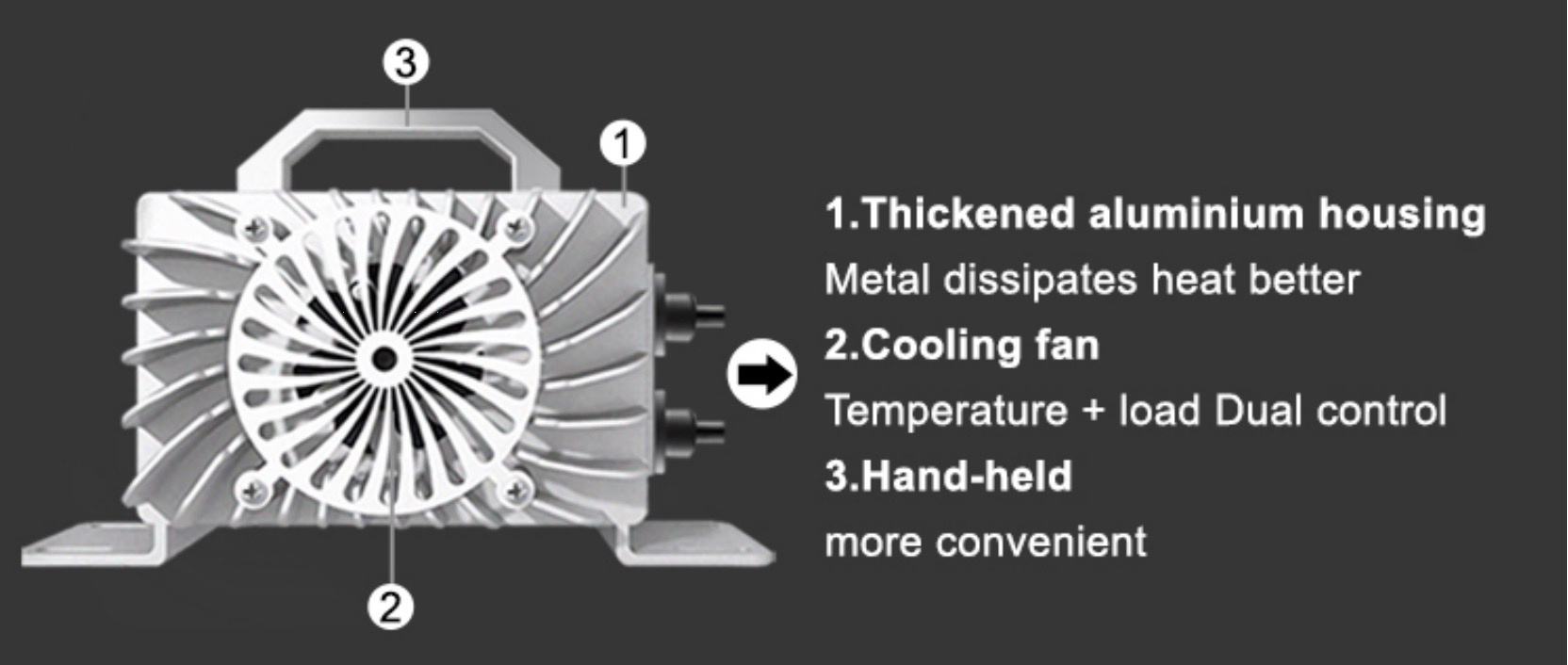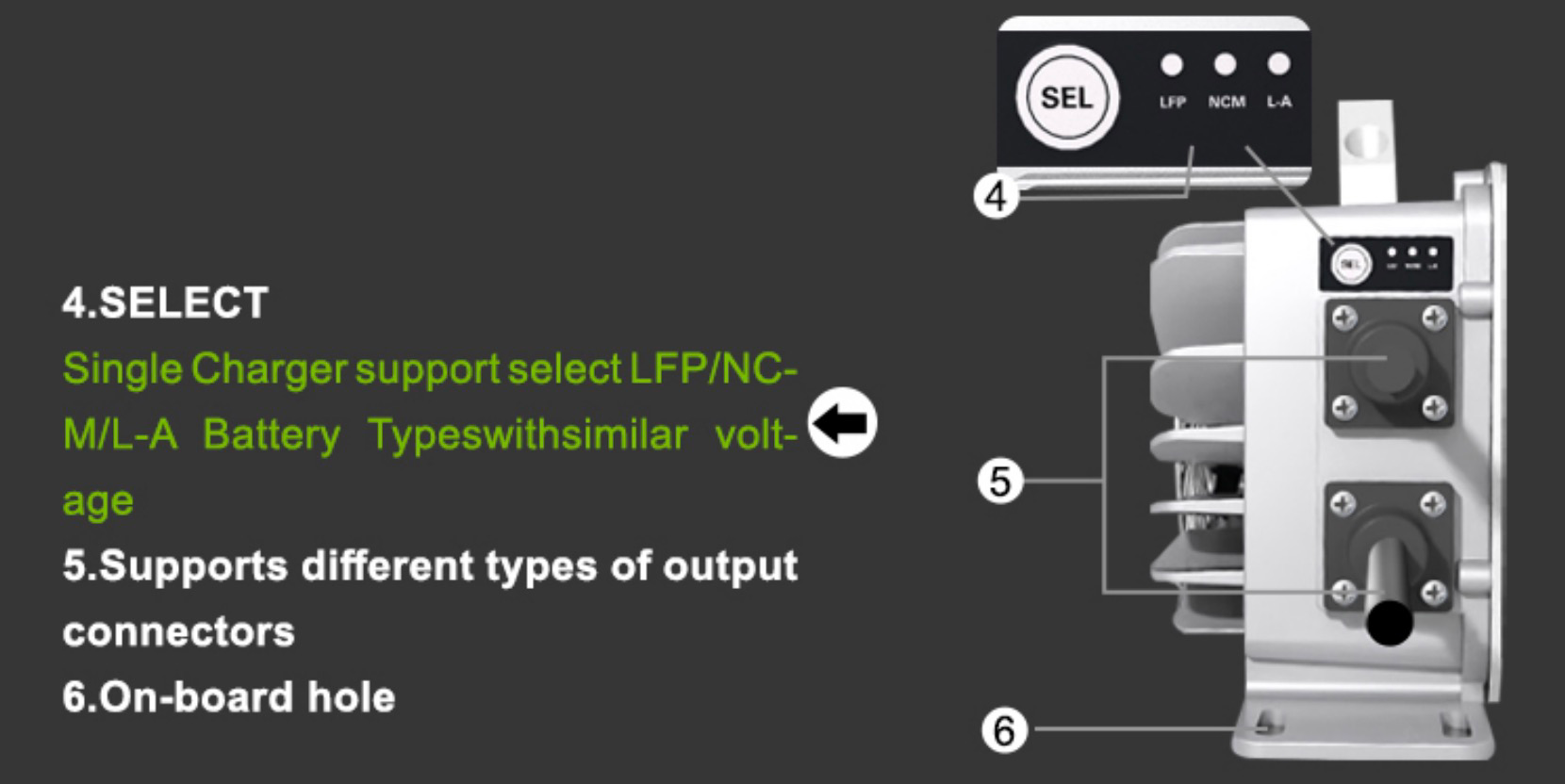 Features:
Optional charging methods: 36V Lead acid and Li-ion or LiFePO4 batteries.
Advanced high frequency switching mode power supply technology.
DC output isolated from AC input.
Universal AC input 110-230Vac with PFC, 50Hz~60Hz
Power factor: >0.99
Charging parameters are insensitive to the AC input line voltage variations.
Completely automatic 4 steps charge: pre-charge, CC, CV, floating/trickle or shut-off.
Protections: Short circuit, Over - voltage, Over - temperature, Reverse Polarity.
Aluminum casing, light weight, portable.
100% full load burn-in test.
2 years warranty.
Technical Specs.:
Dimensions(LxWxH): 262 x 134 x 86 mm
Net weight: 2.8 KG
Max charging voltage(CV): 42V / 43.8 / 44.1 volt selectable
Max output current (CC): 20 amps
Charging method: Pre-charge, CC, CV, Floating
AC input voltage: 110-230Vac (90~264Vdc)
AC input freq.: 50 / 60 Hz
AC plug: custom-made
Output connector type: customized by applications
Enclosure: Aluminum
Product Information Overview
VLDL Smart Battery Charger is a fully automatic 4 steps charging with Pre charge, CC, CV and Floating / shut - off intelligent battery charger. Charging faster and accurately than conventional big and heavy chargers. The pre-charge step can active your low voltage battery and protect your extremely discharged batteries. After pre charging, CC step will charge with Constant Current with very fast speed to reach battery's max voltage. Then CV step can charge with Constant Voltage, the charging current begins to drop at this step. At last, Floating step charges with very small current when charger detects battery's capacity was charged almost fully. The float charge or called trickle charge holds battery at 100% ready state and charger can be left on without worry of undercharge or overcharge.Or if your battery is lithium battery type, our charger can set to be shut off when battery is fully charged.
VLDL chargers have worldwide input voltage 110 - 240Vac, some models was designed with PFC circuit. Charger automatically operates on voltage of 110Vac or 240Vac when user connects it to the local wall socket. We customize input plug and output connector types by customer's request and meet local applications fully.
VLDL smart battery chargers are widely applied to electric vehicles including e - bikes, e - scooters, e - mobility, e - skateboards, e - motorcycles, e - golf carts, electric floor sweepers etc., whatever battery types your electric vehicles powered by, lithium(LiFePO4, Li-ion, LiMo2, Li-polymer etc.) or lead acid (AGM, SLA, GEL, Flooded, Deep cycles etc.), our charger can charge it with high speed and intelligent method.